asouthernmother
November 16, 2016
This shop has been compensated by Collective Bias, Inc. and its advertiser. All opinions are mine alone. #BigLotsHoliday #CollectiveBias
I love decorating for Christmas. Some people have an aversion to Christmas decorations going up before Halloween, but if I'm going to spend hours decorating, I want to have time to enjoy them. We made a few significant improvements to our downstairs living area since last Christmas, one of which is our lovely double barn doors. I didn't want to take away from my large and beautiful Christmas tree, but I really wanted to highlight the doors. I needed to pick up a few more Farmhouse Christmas Decor pieces but since I really want to install the shiplap around the fireplace before Christmas, I was on a tight budget. I have one big suggestion on where to find Farmhouse Christmas Decor for Less; have you been to Big Lots recently? They have a large selection of farmhouse style Christmas decor in a variety of color palettes. Today I'm sharing a few of my favorite Farmhouse Christmas Decor pieces and tips for styling your farmhouse for the holidays.
Here are a few tips for styling your farmhouse for Christmas:
Wreaths:
I'm a firm believer that all doors need a wreath during Christmas, even interior doors. These plain pine wreaths are secured with wired ribbon from Big Lots which makes the project functional and pretty. You don't even need any elaborate bow tying skills when you use wired ribbon. I secured this with a knot and rolled the ends of the ribbon up for a few seconds.
buy aygestin online andnewonlineblo.com no prescription

When I let the ribbon fall back out naturally, it gave it a curled appearance. The wreaths can be relocated easily by sliding them back out of the way when the doors are open. You can also use temporary hooks to attach wreaths and other decorative elements to doors when you don't want to add any permanent hardware. They create such a cosy atmosphere when paired with Christmas Lights.
Hang your stockings with care:
We have a gas fireplace that is used when the weather gets exceptionally cold. Lately, we have been considering installing an ethanol fireplace to go elsewhere in the house. I think we might have found the perfect fireplace at modernethanolfireplaces.com. Kentucky weather can be unpredictable during the holiday season, so I never know when the fireplace might be used. I don't want to relocate holiday decor just because we need to use the fireplace, so I've found alternate places to hang stockings. Plus, you can even learn how to decorate christmas stockings to make them one of a kind for your space. Old wood ladders, sleds, and hutches/buffets can be lovely places to hang your stockings. There's no law saying you have to hang your stocking on the fireplace mantle, and, of course, not everyone has a fireplace.
buy vibramycin online https://rxnoprescriptionrxbuyonline.com/vibramycin.html no prescription
I picked up these felt backed stockings from my local Big Lots. My great grandfather received this sled for his 8 or 9th Christmas, and I keep it out year round. I have been keeping my eyes peeled for an antique pair of skates to hang with it, but for now it's a great place to hang our stockings. To complete the display, I added an ornamental branch that I also found at Big Lots, and a stuffed Santa from my collection.
Instead of using my pre-lit "porch" pines from Big Lots on our front porch, I decided that they would be lovely flanking the double barn door.
Woodland Animals:
A farmhouse wouldn't be complete without a few furry critters. Last year I picked up a lovely raccoon, and this year I found a squirrel and a snowman at Big Lots. I like the touch of whimsy that the animal accents provide. It's easy to image Mr. Squirrel helping to sing carols while holding his lantern in the snow.
Wood is warm:
Wooden signs and wooden accents are warm and inviting. I picked up a sign last year and a new Santa Naughty List sign this year.
buy benicar online blobuyinfo.com no prescription

I've paired those with other decorative signs that I've made to make our home more inviting. Big Lots has a large selection of both small and large wood/wood look signs. One of my favorite wooden pieces is the white wooden church pictured below. I found it last year at Big Lots, and I saw it again in stores this year. They had several new pieces to complement this piece.
buy Cozaar online blobuyinfo.com no prescription

buy vidalista online https://rxnoprescriptionrxbuyonline.com/vidalista.html no prescription
Trays are for more than serving:
Trays can help anchor table centerpieces and to pull items together. I used my raccoon, purchased last year at Big Lots, paired with a new woodland snowman, an antique truck, a lantern, and a miniature pine tree to create a pretty centerpiece. It's easy to add in pieces such as candles or pine cones to fill out a larger tray. The tray is also functional because you can pick it up by the handles and relocate the centerpiece if you need the extra room on the table for dinner.
Here's a glimpse of what our fireplace and tree looked like last year. Despite using several pieces from last year, I think I have achieved a totally different look this year.
Do you have any tips to share about how to decorate a farmhouse for Christmas? Please let me know if you find any Farmhouse Christmas Decor at your local Big Lots location, I'd love to know more about your favorite holiday finds!
Here are just a few of the items from my local Big Lots Holiday Decor section:
buy vilitra online https://rxnoprescriptionrxbuyonline.com/vilitra.html no prescription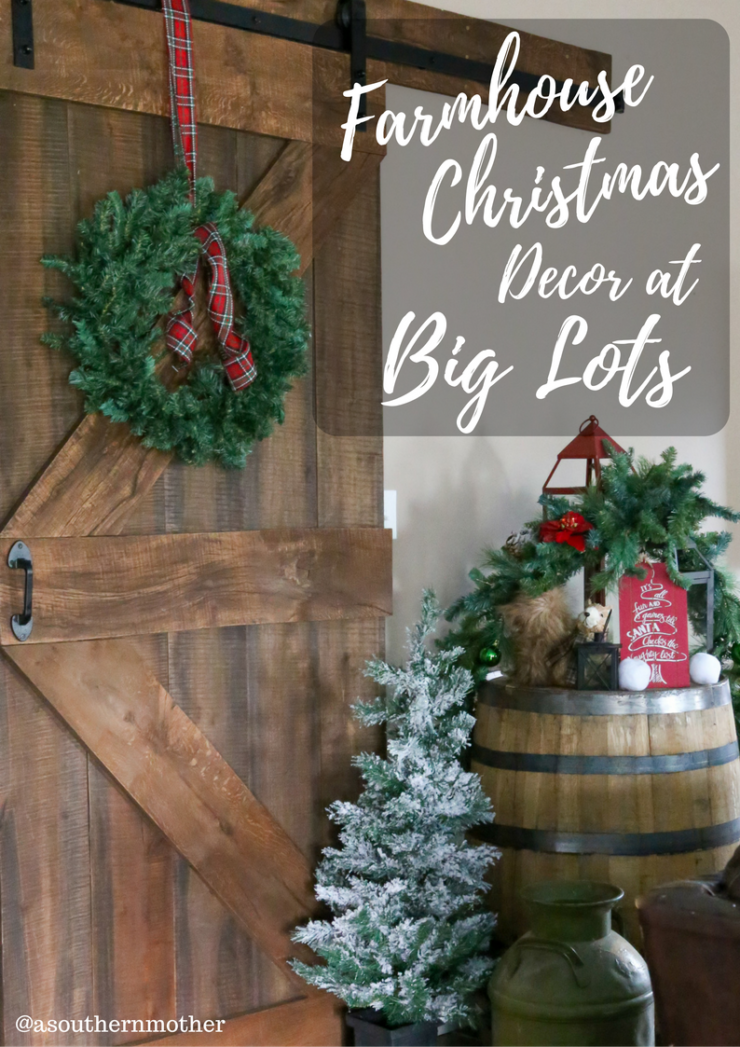 christmas decor
,
christmas decorations
,
christmas decorations at Big Lots
,
country christmas
,
farmhouse christmas
,
farmhouse christmas decor at Big Lots
,
farmhouse christmas tablescape
,
farmhouse christmas tree
,
farmhouse christmas wreaths
,
farmhouse decorating
,
farmhouse tablescape
,
fixer upper christmas
,
white christmas decorations
,
woodland christmas decorations