This shop has been compensated by Collective Bias, Inc. and its advertiser. All opinions are mine alone. #HolidayFlavorsAreHere #CollectiveBias
When I was growing up, I spent nearly every Sunday either at my grandparents' or great grandparents' houses. I played with my cousins and we ate dinner together. Sadly, I feel like families don't visit each other like they use to, or at least my family doesn't. We seem to only visit during holidays, birthdays (if it's a big one), weddings, and, unfortunately, funerals. When was the last time you had dinner or visited with your extended family? We spent some time with my husband's family last week; his grandmother unexpectedly passed away. While everyone certainly grieved her passing, it was nice to catch up with many of them again. My husband got to spend time with his beloved great uncle and he got to meet our daughter for the first time. When everything was over and everyone went home, I just wanted to sit with my husband and relax. There are only a few things that I find more soothing than a nice cup of coffee and a bite of chocolate. Today I'm sharing one of my favorite coffee and chocolate pairings, Starbucks® Holiday Blend Coffee and Lindt Lindor Chocolate Truffles. This Spiced Chocolate Truffle Muffin recipe is lightly sweet with a burst of chocolate in the center.
Some people dread having overnight visitors, but I don't mind. I try to keep things simple and enjoy as much time with our guests as possible. I like to prepare as many meals as I can ahead of time so that I'm not cooking while they're here. Time is precious and if my grandmother is visiting, I don't want to spend 2-4 hours of the weekend that she's here in the kitchen. This Spiced Chocolate Truffle Muffin recipe can be prepared ahead of time and stored in an airtight container. I suggest using the Lindor Gingerbread Truffles. Casseroles and soups can both be prepared and stored in the freezer or refrigerator until needed. You can easily shop for both products by clicking on them in the image below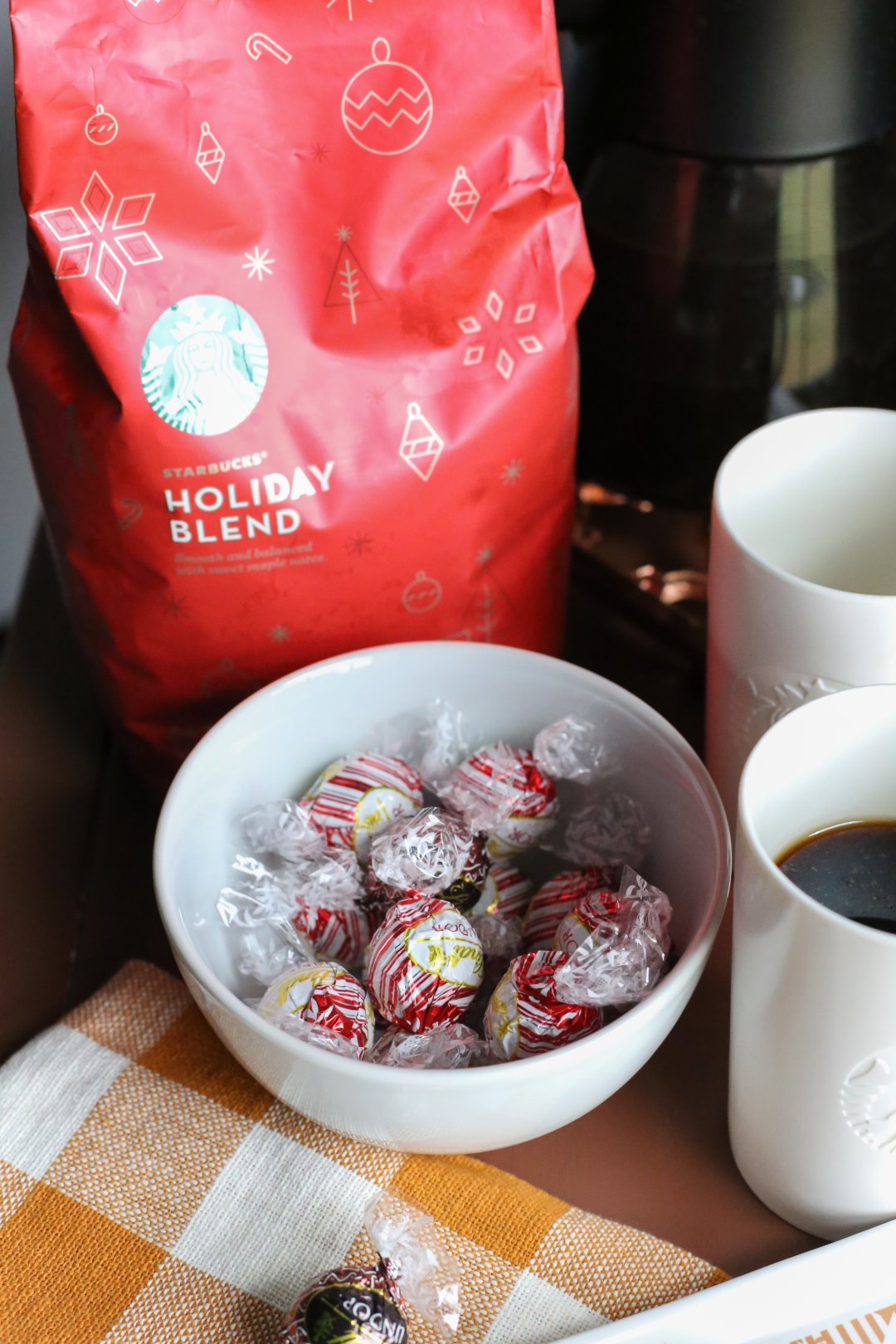 We also keep a pot of coffee brewed and I love the aroma that Starbucks® Holiday Blend creates when it's brewing. Who needs air freshener when you can smell freshly brewed coffee? You can set out coffee mugs, napkins and any additives that they might like on a tray so that guests can easily help themselves. A pretty bowl is a great way to store a small snack such as the Lindt Chocolate Assorted Lindor Truffles.
I'll admit that my favorite way to eat a Lindt Lindor Truffle is completely plain. I love biting into them and enjoying the gooey center. If you let these muffins cool long enough the centers will return to their original state. You'll want to eat them with a fork if they're warm, and use the muffin to soak up the chocolate from your plate. Here's my Spiced Chocolate Truffle Muffin Recipe buy amoxicillin online https://buybloinfo.com/amoxicillin.html no prescription

Spiced Chocolate Truffle Muffin
Ingredients
1 cup all purpose flour
2 eggs
1 cup sugar
1 tablespoon vanilla
½ cup cocoa
⅓ teaspoon salt
¼ teaspoon cinnamon
⅛ teaspoon nutmeg
⅛ teaspoon cloves
¾ cup butter
Lindt Chocolate Lindor Gingerbread Truffles
Instructions
Preheat oven to 350
Mix all dry ingredients together
Add in eggs, vanilla and melted butter
Mix until well combined
Bake at 350F for 6 minutes
Unwrap enough truffles to put one in each muffin cup.
Place one Lindt truffle in each muffin and lightly push it into the muffin with a fork.
Center of the muffins should be uncooked and gooey.
Bake an additional 8 minutes
Allow them to cool completely before serving.
The Spiced Chocolate Truffle Muffins brings out the sweet maple flavor nuance of the Starbucks® Holiday Blend. We picked up both the Starbucks® Holiday Blend Coffee and the Lindt Chocolate Assorted Lindor Truffle Bag at our local Sam's Club. The Lindor Truffles box has three inner pouches filled with holiday flavors such as gingerbread and peppermint. The above recipe pairs best with the gingerbread Lindor Truffles.
Enjoy your time with family this holiday season. Starbucks® Holiday Blend and Lindt Chocolate Lindor Truffles help make entertaining family easier no matter what the occasion. We picked up both items from our local Sam's Club.
buy anafranil online
https://buybloinfo.com/anafranil.html
no prescription
There's even a special offer from Starbucks®:
Enjoy
50 bonus stars
with purchase of any one qualifying Starbucks® packaged coffee or K-Cup® pods at Sam's Club through 11/1/17-12/26/17